BP oil spill: How much has bad weather hurt the cleanup?
A week of high winds and waves has interfered with some efforts to contain and clean up the BP oil spill. But key activities have continued with little interruption from bad weather.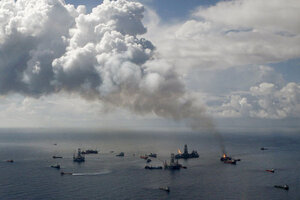 AP
For more than a week, high seas in the Gulf of Mexico have confounded some – but not all – of the massive efforts to clean up and contain the BP oil spill.
Beginning June 27 with the approach of a storm that would become hurricane Alex, bad weather has especially hampered skimming operations that use some 500 skimmers and 3,000 "vessels of opportunity" to remove oiled water before it washes ashore. Forecasts call for waves to remain high through the coming week.
But the wind-and-wave action has not halted all response activities put in place since April 20, when an explosion on the Deepwater Horizon rig some 40 miles off the Louisiana coast triggered a blowout at the well. Since then, between 35,000 and 60,000 barrels of oil a day (1.47 million to 2.52 million gallons a day) have been billowing into the Gulf, according to official estimates.
IN PICTURES: The Gulf oil spill's impact on nature
Here's a list of the response activities that have continued despite the heavy seas – followed by a list of those that have been discontinued or hampered.
What's still working
---