Oil skimmer A Whale gets some tweaks in bid to work the BP oil spill
Oil skimmer from abroad, the mega ship A Whale, has not yet shown how well it can collect oil, because of continued rough seas. At least it's been out on the water near the site of the BP oil spill, while other skimmers were docked.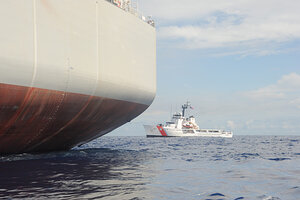 U.S. Coast Guard, Petty Officer 1st Class Matthew Belson/AP
The verdict on the A Whale super oil skimmer is not yet in. Fifteen-foot waves in the Gulf are hampering Coast Guard tests of the 10-story-tall, 1,100-foot-long ship that started its journey to the Gulf oil spill as a "lightbulb moment" of inspiration for Taiwanese shipping magnate Nobu Su, its owner.
Though early tests of the ship's oil-collecting ability were inconclusive, spirits are reportedly running high among the 35-member crew maneuvering the A Whale near the Deepwater Horizon spill, where the oil is the thickest. Whether Mr. Su's mega ship gets hired by BP depends on the kind of oil-sucking efficiency the retrofitted iron ore tanker can demonstrate while working on a widely dispersed spill under less-than-ideal conditions.
The A Whale's capacity is said to be 300,000 barrels of oil (12.6 million gallons) collected in a 10-hour period, a 125-fold improvement over the next-largest skimmer working the spill. But that's a best-case scenario, experts say.
IN PICTURES: The Gulf oil spill's impact on nature
During the worst of the weather over the past weekend, the A Whale became the only one of nearly 550 oil skimmers to work the Gulf, highlighting its potential to help contain a spill area that could become even harder to manage if the hurricane season is volatile, as expected. With hurricane Alex last week, the Gulf saw its first June hurricane in 15 years.
---