Obama loses in court again over deepwater drilling moratorium
A deepwater drilling moratorium, issued in May and struck down as too broad June 22, was not reinstated Thursday by a federal appeals panel, but drilling is unlikely to resume any time soon.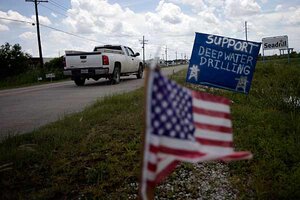 Gregory Bull/AP
A federal appeals panel in New Orleans on Thursday denied the federal government's bid to reinstate a six-month moratorium on offshore deepwater oil drilling issued by the Department of Interior, as part of the Obama administration's response to the ongoing BP oil spill in the Gulf of Mexico.
The ruling, though it buttresses the position of companies fighting the moratorium, is not likely to mean a return to drilling in the deepwater Gulf any time soon. The Obama administration will challenge Thursday's court decision, and companies are likely to wait for the legal issues to be fully settled before incurring the expense of reinstalling drilling equipment.
The moratorium, issued six weeks ago, suspended operations on 33 exploratory wells and halted the approval of new permits for deepwater drilling. The suit to lift the moratorium was brought by Hornbeck Offshore Services Inc. and a dozen other oil industry service providers, who say the ban will cause them irreparable economic harm.
The federal government says the risks of another spill in the Gulf, while the blown well remains uncontained and before new safety rules have been implemented, outweigh the potential economic effects of the drilling ban. Rejecting the ban as too broad, US District Judge Martin Feldman struck down the moratorium on June 22, and on Thursday a panel of the Fifth US Circuit Court of Appeals refused, in a 2-to-1 ruling, to delay Judge Feldman's order to scrap the moratorium.
---