Top Kill 2: BP aims to turn off Gulf oil spill spigot soon
A new containment cap could temporarily halt oil from gushing into the Gulf of Mexico. BP's gambit could dramatically alter the arc of the Gulf oil spill drama. Critics are doubtful.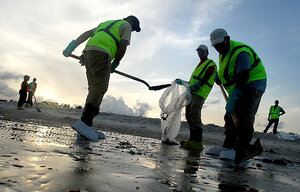 Newscom
The Gulf oil spill drama is heating up this weekend. Call it Top Kill 2.

Coast Guard Adm. Thad Allen gave the thumbs-up Saturday to a proposal by BP to temporarily stop the runaway Macondo well now in its 80th day spewing up to 60,000 barrels of oil a day into the Gulf of Mexico.

The maneuver requires the company's robot proxies at the bottom of the Gulf to remove the current containment cap, which was placed on the well last month and is siphoning up to 25,000 barrels of oil a day to ships on the surface. That means the geyser will gush unabated before the new cap is slipped over the top of the faulty blow-out preventer on the seafloor a mile beneath the Gulf.
IN PICTURES: The Gulf oil spill's impact on nature

The tighter fitting cap will be attached to a newly-arrived vessel, the Helix Producer, which, along with two ships currently storing and burning oil, could increase the total oil-capture capacity to 53,000 barrels of oil a day, possibly containing all of the oil spewing from the well.

If successful, the cap will also give scientists the most accurate measure yet of the geyser's exact flow rate, which will be critical in determining final damages that BP and potentially some of its subcontractors will have to pay as a result of the spill.
---