Haiti earthquake: Six months later, are relief efforts dragging?
While more than $2 billion in aid is helping the Haiti earthquake recovery, critics including singer Wyclef Jean say progress is still too slow.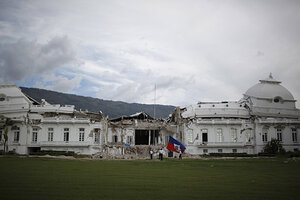 Alexandre Meneghini/AP
Six months after the catastrophic 7.0-magnitude Haiti earthquake, signs of progress show that the outpouring of donations from the US government, households, and organizations played a major role in helping the relief effort.
• More than $1 billion came from the US Agency for International Development (USAID), the State Department, and the Department of Defense.
• President Obama has promised another $1.15 billion, representing about 22 percent of the $5.27 billion pledged by nearly 40 countries and international institutions during the next two years.
• Former Presidents George W. Bush and Bill Clinton have collected more than $36 million from US businesses and 200,000 individuals.
• Polls show that nearly half of American households contributed to Haiti, donating $1 billion since January through the United Nations and nongovernmental organizations such as the American Red Cross.
---