'Outing' illegal immigrants: Utah grapples with 'listgate'
The release of a list of 1,300 alleged illegal immigrants in Utah comes as the state debates a strict immigration law like its neighbor Arizona's.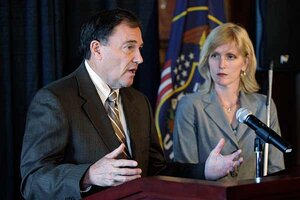 Jeffrey D. Allred/Deseret News/AP
How can Utah move forward from "listgate"?
That is among the questions community leaders are pondering as Gov. Gary Herbert gathers 30 of them for a roundtable discussion of immigration on Tuesday.
A 29-page list of 1,300 people accused of being in Utah and the US illegally was mailed anonymously to media outlets and law enforcement agencies last week. It included Latino names, addresses, phone numbers, Social Security numbers, and private health information such as the due dates of babies.
Two state employees – identified within the Utah Department of Workforce Services and already placed on administrative leave – could face criminal charges in connection with the list's release. And state Attorney General Mark Shurtleff says his office is still investigating further leaks.
Intentionally releasing a private record in Utah is a misdemeanor punishable by up to six months in jail and $1,000 fine. If the record was stolen, the crime could be prosecuted as a felony and carry a penalty of up to five years in prison and a $5,000 fine.
Beyond illegality, immigrants rights and other Hispanic groups say the release of the list is just morally wrong.
---
Follow Stories Like This
Get the Monitor stories you care about delivered to your inbox.