Daniel Schorr: His first Monitor story, from 1948
Daniel Schorr wrote his first article as a reporter for the Monitor in 1948, when he was hired to cover the Netherlands, after having worked at news agencies and contributed to other news outlets. This article from the International Court of Justice was a fulfillment of his ambition to be a foreign correspondent at the beginning of his journalism career.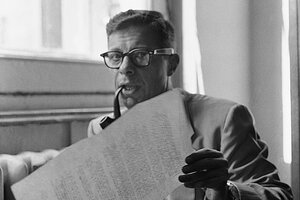 AP/File
Editor's note: Veteran newsman Daniel Schorr passed away on Friday. One of his first reporting jobs was for us, as a Monitor correspondent covering the Netherlands. Below is his first dispatch as a Monitor reporter.
United Europe Congress Opens
May 7, 1948
Two years ago a union of European countries seemed just a dream of a few visionaries. Today some 800 delegates are gathering for the first United Europe Congress - and the matter-of-fact forecast is heard that a super-national structure will emerge in the course of 1949.
For some time it is not likely to be the all-embracing union from the British Isles to the Caucasus which has stirred the imagination of pan-Europeans for generations. Russia is busy "welding together an eastern European union of its own. But this very consolidation in east Europe has given the new impetus to the West to sing age-old rivalries and national divergencies.
Great Strides
Almost every major postwar development has had the effect of pushing western European countries towards some form of unity - the deepening shadow of Russia, the pooling of resources under the Marshall Plan and the Brussels "Western Union."
---