Milwaukee sinkhole that gobbled car, stoplight: Will it grow?
Milwaukee sinkhole opened during torrential rain Thursday night. Milwaukee sinkhole has been cordoned off while officials conduct tests to determine if the 40-foot-wide hole is in danger of collapsing further.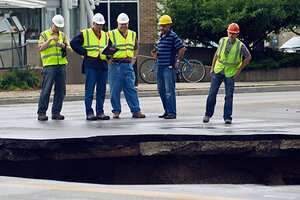 Morry Gash/AP
A 40-foot-wide Milwaukee sinkhole swallowed a car and driver – and a stoplight – Thursday night after torrential rainfall in the Great Lakes region.
The sinkhole is approximately 20 feet deep, according to Milwaukee's Department of Public Works. Businesses surrounding the downtown intersection with the sinkhole have been evacuated while the compromised ground is tested to make sure it will not collapse further.
Bystanders rescued the driver of the car and police cordoned off the area immediately after the accident. The city left the car running overnight to burn off its gasoline before attempting to remove it and clean the area.
IN PICTURES: Sinkholes around the world
A spokeswoman for the public works department said the sinkhole was caused when a manhole gave way as rainwater gushed through Milwaukee's drainage system, according to the Milwaukee Journal Sentinel. The city received more than 5-1/2 inches of rain Thursday, about an inch shy of the local record.
The rain also caused the temporary closure of Milwaukee's General Mitchell Airport Friday morning, after the water flooded the airfield and some roads leading to the airport.
Heavy rainfall is one of several primary causes for sinkholes, according to Mark Kasmarek, a hydrogeologist at the US Geological Survey.
"To get a big washout of material, the only way is to have a high rate of water flowing through the sediment," Mr. Kasmarek says. "If a place has had torrential rains, that can cause groundwater to flow, which erodes out sediments from underneath asphalt and buildings."
---