ADA at 20: breakthroughs abound, but some attitudes unchanged
The Americans With Disabilities Act, signed 20 years ago, has changed the face of America. But some attitudes toward those with disabilities need to change, say advocates.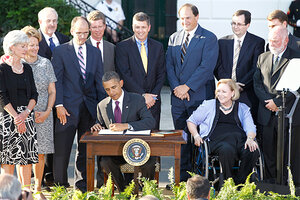 Charles Dharapak/AP
Monday marks the 20th anniversary of President George H. W. Bush signing the Americans with Disabilities Act (ADA) into law and proclaiming, "Let the shameful walls of exclusion finally come tumbling down."
As President Obama celebrates the milestone on the South Lawn Monday afternoon, officials, advocacy groups, and the public are applauding how transformational the law has been for tens of millions of Americans with disabilities. In its 20 years, the law has made buildings, vehicles, and streets more accessible, yet many say much more can be done to end discrimination for those with a physical impairment.
"Twenty years after the passage of the Americans with Disabilities Act, we can see tangible results," says James Weisman, senior vice president and general counsel for the United Spinal Association, which advocated for and drafted significant provisions for the legislation.
"The ADA mandates have broken down architectural, transportation and communication barriers," adds Mr. Weisman. "The opportunity, which has afforded those with physical, sensory and cognitive impairments the enjoyment of all America has to offer, has changed us all. The accommodation of people with disabilities has made us a world model."
The ADA is a broad civil rights law that forbids discrimination based on disability. It gives similar protections against discrimination to Americans with disabilities as the Civil Rights Act of 1964, which made illegal any discrimination based on race, religion, sex, national origin and other characteristics.
---