Four reasons Tony Hayward is apparently out as BP chief
BP's board of directors looks set to replace Chief Executive Tony Hayward after a series of missteps during the Gulf oil spill crisis. But the move is about more than Mr. Hayward's gaffes.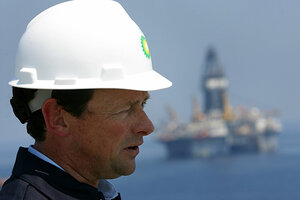 Sean Gardner/AP/File
It wasn't just the gaffes like "I'd like my life back." Tony Hayward appears to be on the way out as BP chief executive because of a range of leadership failings, management experts say, and the company's board is moving to set his departure date.
Mr. Hayward is set to leave his post in October, according to news reports that cited officials within the company as BP's directors met Monday evening in London. His expected successor is Bob Dudley, another senior BP executive who's been charged with managing oil spill response in the Gulf of Mexico in recent weeks.
Although Hayward became a focal point for public criticism, not everyone seems to think he had to go. As of Monday afternoon, for example, 61 percent of online responders were saying "no" in response to an online poll question from CNBC, "Should BP CEO Tony Hayward be sacked?" (And 39 percent of the nearly 2,000 resonders said, "yes.")
---