WikiLeaks: Facing 90,000 documents, US officials take go-slow approach
WikiLeaks documents didn't undermine Congress's plan to pass a war-funding bill. And the Pentagon is rejecting calls for changes in how the military shares information with uniformed members.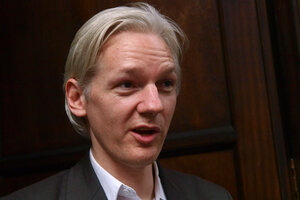 Max Nash/AP
Sunday's WikiLeaks release of more than 90,000 classified documents has thrown US officials and some lawmakers on the defensive. But so far, many have opted for a restrained response.
Congress, for one, completed an emergency war-funding bill Tuesday, despite the WikiLeaks controversy. The Pentagon, meanwhile, has launched a probe into who leaked the trove – and whether the leaks put US forces or its allies at risk. But it is not gearing up to revamp its procedures.
Even before the classified documents have been fully analyzed, some top officials have argued that the files don't actually reveal much new information.
"There is nothing in these documents, most of which date way back into the previous administration, that should change anyone's judgments about the situation in Afghanistan and Pakistan," said Richard Holbrooke, the US special representative for Afghanistan and Pakistan, in testimony Wednesday before a subcommittee of the House Appropriations Committee.
But in fact, the volume of this vast document dump is unprecedented, and it's too early to come to conclusions on what an analysis of these documents could produce, says Steven Aftergood, director of the Project on Government Secrecy at the Federation of American Scientists in Washington.
"Hardly anyone is going to go through the documents in detail," he says. "They are mesmerized by the mere phenomenon of the disclosure: The publication of 90,000 classified records is an astonishing act in itself."
He adds, "On the one hand, it's a sign of open defiance on the part of the publishers, WikiLeaks. On the other hand, it's a sign of incompetence on the part of the military that failed to protect this material."
At the Pentagon, Defense Secretary Robert Gates launched an investigation this week into who leaked the documents to the group WikiLeaks.org. But so far, he is rejecting calls for changes in the way the US military shares information with uniformed members.
"What makes our military the envy of the world is that we entrust the most junior officers, the most junior enlisted with incredible amounts of responsibility," said Pentagon press secretary Geoff Morrell in an interview Tuesday on MSNBC.
The Army's criminal investigative division is also investigating the case of Army Spc. Bradley Manning, charged with leaking a video of a 2007 US helicopter attack in Iraq to WikiLeaks. But the new probe isn't focused on any one individual, says Pentagon spokesman Col. Dave Lapan. "It's much broader. They're going to look everywhere to determine what the source may be," he said in a briefing Tuesday.
On Capitol Hill, Sen. John Kerry (D) of Massachusetts called on the public to be cautious in its reading of what's been released to date. "These documents appear to be primarily raw intelligence reports from the field, and as such anybody who's dealt with those kinds of reports knows some of them are completely dismissible, some of them are completely unreliable, some of them are very reliable," he said at a hearing of the Senate Foreign Relations Committee on Tuesday.
"But raw intelligence needs to be processed properly, and generally by people who have a context within which to put it. And so I think people need to be very careful in evaluating what they do read there," he added.
Defense analyst Michael O'Hanlon, a senior fellow at the Brookings Institution in Washington, calls the WikiLeaks controversy a distraction. "WikiLeaks has us looking backward again, and that's been our problem," he says. "It's time to give the new [Afghanistan] strategy a bit of time and analyze how it's working. We need to worry not so much about responding to WikiLeaks but refocusing on what's happening in Afghanistan."
For antiwar lawmakers, the documents are grist for the ongoing war debate. "Taken as a whole, the picture from these documents is pretty grim," says Rep. Jim McGovern (D) of Massachusetts. "We need to put some more pressure on the Obama administration to change [its] strategy."
Related:
---
Follow Stories Like This
Get the Monitor stories you care about delivered to your inbox.