US 'nuclear sleuthing' abilities need improvement: report
In the event of a nuclear attack, US nuclear scientists would have a hard time tracking down the source and characteristics of the nuclear material, a panel of experts found.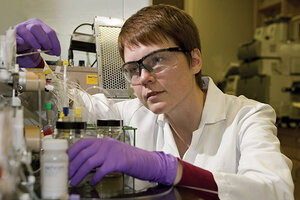 Jacqueline McBride/Lawrence Livermore National Laboratory
The US's ability to track down illicit nuclear material or conduct a timely investigation of a terrorist attack involving nuclear materials is at risk of serious erosion, according to a panel of experts gathered by the National Research Council.
"Without strong leadership, careful planning, and additional funds, these capabilities will decline," the panel concluded in a study released July 29 in Washington.
The 31-page report is an unclassified version of a classified sibling, pulled together at the request of the Pentagon, the Department of Homeland Security, and the US Energy Department's National Nuclear Security Administration and presented to the agencies in January.
Some progress has been made in addressing the issues raised in the classified report, says Albert Carnesale, chancellor emeritus at the University of California at Los Angeles and a specialist on nuclear and international security issues, in a preface to the unclassified version.
He notes that President Obama has developed a five-year strategic plan to deal with the challenges faced by the country's nuclear CSIs. In addition, earlier this year he signed into law the Nuclear Forensics and Attribution Act, which attempts to deal with a looming shortage in experts in the field, among its other provisions.
---