2010 elections: Another incumbent falls in primary
Three states had primaries for the 2010 elections Tuesday. An incumbent lost her seat, the 'tea party' split its vote, and health-care reform took a beating.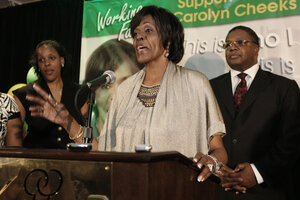 Paul Sancya/AP
Yet another congressional incumbent has lost in the primaries – the sixth so far this season – and the conservative "tea party" movement lost in key races Tuesday.
The common denominator is that anti-Washington, anti-insider sentiment is rampant, but among Republicans, it does not always redound to the tea party's benefit. As in some previous races, conservatives split their votes in Michigan's GOP gubernatorial primary Tuesday, allowing the less conservative competitor to rise to the top. The same is expected to happen in Tennessee's GOP multi-candidate gubernatorial primary on Thursday.
Here's the rundown on Tuesday's votes:
Michigan
In an upset, Rep. Carolyn Cheeks Kilpatrick (D) – the mother of disgraced ex-Detroit Mayor Kwame Kilpatrick - failed to win the Democratic nomination for an eighth term. The victor, state Sen. Hansen Clarke (D), dealt the final blow to the Kilpatrick family dynasty by highlighting ex-Mayor Kilpatrick's legal problems. He resigned in 2008 after pleading guilty to obstruction of justice.
---