Shaq is out: Shaquille O'Neal wants new nickname for Celtics move
Shaquille O'Neal, who recently signed with the Boston Celtics, appealed to his new fans for a new nickname. One linguist says that sports nicknames are thriving thanks to heavy sports media coverage.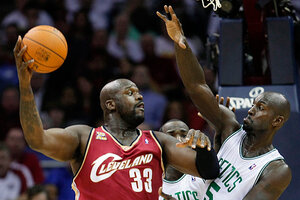 Tony Dejak/AP/File
Since the mid-week announcement of Shaquille O'Neal's signing with the Celtics, Boston fans have posed a slew of new nicknames they hope will be as memorable as some of the monikers the 18-year veteran NBA center has already accrued.
While Mr. O'Neal, who may become Boston's new "Green Monster," may boast more nicknames than most athletes, the designations are a tradition in the sports world.
O'Neal is a one-man nickname machine, with double-digits in whimsical monikers. But some think that "Shaq" might be an anomaly in the sports nickname cottage industry and that the practice of nicknaming athletes might be on the wane.
Some argue that nicknames are less prevalent now than in prior decades because "athletes follow money instead of staying with one team," Robert Kennedy, a linguist at the University of California, Santa Barbara who has closely studied nicknames in sports, wrote in an e-mail.
"But I have not been convinced that there are fewer nicknames, and I could counter-argue that player movement brings more players in contact with more press pools, creating more opportunities for nicknames for each individual," Mr. Kennedy wrote.
---