'Bottom kill' set to seal oil well for good, but worries abound in Louisiana
Louisiana residents are relieved that no more oil is spewing and that a 'bottom kill' to seal the well will begin soon. But they are also worried, about BP's commitment to a full cleanup and a report that most of the oil is gone.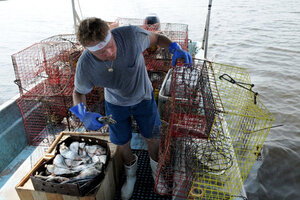 Chuck Cook/AP
As BP prepares final operations to permanently seal the once-out-of-control oil well in the Gulf of Mexico, Louisiana residents are both relieved and wary.
Many see government scientists as overly optimistic in their assessments of the current state of the spill, and they are worried about BP standing by its commitment to fully clean it up.
"We had assurances from BP that they're in for the long haul, but we don't know what the future holds once this well is killed," says Lafourche Parish president Charlotte Randolph. Ms. Randolph was one of seven parish presidents who last week attended a meeting with federal response director Thad Allen, BP chief operating officer Doug Suttles, and Louisiana Gov. Bobby Jindal.
"Everyone is saying, 'where's the oil?'" continues Randolph. "This week in Lafourche Parish we had hundreds of barrels a day washing in. We need some clear answers from BP on what [is an appropriate cleanup], what is their exit strategy."
Three weeks after a containment cap checked the flow of petroleum into the Gulf, the vast slicks of surface oil have largely disappeared. On Aug. 4, the National Oceanic and Atmospheric Administration released a report stating that 74 percent of the estimated 200 million gallons of oil from the blown wellhead have disappeared, due largely to natural decomposition and dispersal. White House energy adviser Carol Browner said "the vast majority of the oil is gone."
---
Follow Stories Like This
Get the Monitor stories you care about delivered to your inbox.