Did Mark Papermaster, Apple iPhone exec, leave over 'Antennagate'?
Mark Papermaster, who came to Apple to oversee iPhone hardware, left the company this week.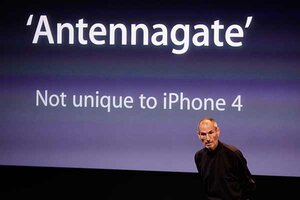 Paul Sakuma/AP
Are a few million free iPhone cases enough to get you fired from Apple?
That's something Mark Papermaster and the folks at Apple know and the tech world is wondering.
Mr. Papermaster, the former head of hardware for Apple's iPhone, left the company this week, the New York Times reported. His departure comes little more than a year after his arrival at Apple from IBM, which sued to try to prevent him from joining a competitor.
The split comes after a flap over design complaints about the iPhone 4, released in June. The phone will lose reception and "drop" a call if held a certain way, some users found, a claim backed by Consumer Reports, which in July said that it could not recommend people buy the device. That led Apple to hold a press conference where CEO Steve Jobs announced a plan to issue free phone cases to mitigate the problem.
---