Lesson from JetBlue attendant meltdown: overhead bins are sacred
With airlines charging for checked baggage, the scramble for overhead bin space can get heated – as was apparently the case Monday, when one tussle led a JetBlue attendant to start hurling profanities at a passenger.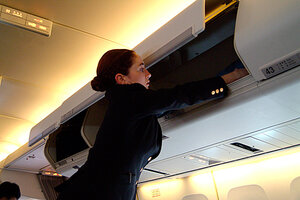 Newscom/File
Most frequent flyers have witnessed the battle for overhead bin space – the mad scramble as people hoist suitcases over heads and push, shove, and squeeze bags into a diminishing amount of space.
On Monday, the rush to claim that much sought-after space apparently set off one of the more bizarre events in commercial airline history that culminated in the arrest of JetBlue flight attendant Steve Slater.
Before Mr. Slater's reported verbal tirade against a passenger aboard a Pittsburgh to New York flight and before he fled the airplane via its emergency chute – while clutching a few beers purloined from the galley – he apparently broke up a fight between two passengers vying for that coveted area above their seats.
IN PICTURES: The wide world of air travel
According to Slater's lawyer, one of those passengers smashed the overhead bin door into his head.
To many who have experienced first-hand the frustrations of not being able to find space for a bag aboard an airplane – and the frustration of paying additional fees for checking luggage – the episode that played out on the JetBlue flight Monday may not be that surprising.
"It's gotten ugly," says New Yorker Robin Brassner. "I have seen it where the suitcase is so tight ... people would use their foot to shove it in if they could."
It's gotten territorial, too, as many passengers feel that the space above their seat belongs only to them.
---
Follow Stories Like This
Get the Monitor stories you care about delivered to your inbox.