Flight attendant's job: Harder than it used to be?
Flight attendants, including JetBlue's now-famous Steven Slater, often deal with annoyed or irate passengers. But the climate in which they work is more stressful than it used to be, experts say.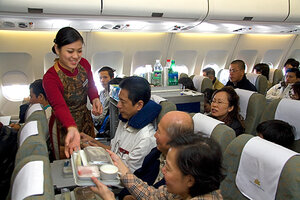 Newscom
Whatever caused JetBlue flight attendant Steven Slater to make perhaps the most memorable "departure" in airplane history is no doubt more complicated than an unpleasant run-in with a passenger.
After all, flight attendants deal with annoyed or irate passengers on a regular basis. Attendants are, for better or for worse, often a passenger's first human contact with anyone from the airline – and depending on how the passenger's whole airport experience has gone, that contact can be pleasant or raw.
The challenge now is that the climate surrounding the job of flight attendant has become more stressful than it used to be, say some flight attendants and those who study their careers.
IN PICTURES: Top 5 most stressful jobs
"Our jobs have changed so much over the past 10 years," writes 20-year veteran flight attendant John Safkow of Castro Valley, Calif., in an e-mail. "I never used to feel it was a 'job'. Never felt as if I was going to work. Now, it's a job. I just want to get the hours in and go home."
Mr. Safkow, who writes online under the name "Martha Stewardess" and requested that the name of the airline he works for not be published, is one of dozens of flight attendants who blog – and sometimes vent – about their in-flight experiences.
Before the 9/11 terrorist attacks, he writes, airlines were profitable and spent money trying to make passengers more comfortable.
---