'The Expendables' tops 'Eat Pray Love': death of the chick flick?
'The Expendables' won the weekend box office over Julia Roberts' 'Eat Pray Love' – partly because of women.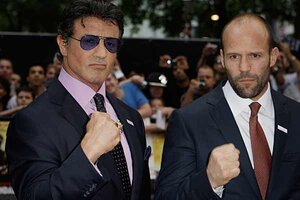 Joel Ryan/AP
"The Expendables" may be about a bunch of men, but the message for Hollywood from this R-rated testosterone extravaganza is all about women.
Female ticketbuyers made up nearly 40 percent of the film's $35 million weekend take at the box office. Almost as many women (1.8 million, according to Hollywood.com) went to see Sylvester Stallone and pals reprise their action hero film roles as cozied up to Julia Roberts in the consummate chick flick "Eat Pray Love."
What does this sisterhood of summer moviegoing say about the skirt-wearing sex?
"Women don't want to be pigeonholed," says Movies.com content editor Stacie Hougland. She cut her popcorn-flick teeth on the original "Rambo," "Terminator," and "Die Hard" franchises, and doesn't want to be "relegated to wimpy love stories or pie-in-the-sky fantasies." Whether like Ms. Hougland or sociologist BJ Gallagher, who says "women are more androgenous than ever, but they also like to watch alpha males take care of business," today's women do not fit into neat categories.
---