Why many Pakistani-Americans aren't sending flood donations home
Many Pakistani-Americans say they are reluctant to donate to Pakistan flood relief efforts because they think their money will only line the pockets of a government they see as corrupt.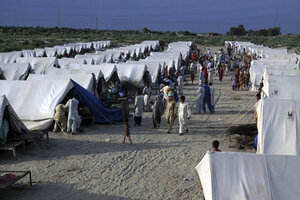 K.M.Chaudary/AP
Many of the Pakistani-Americans who live in ethnically diverse Jackson Heights, Queens, are saddened by the flooding in their homeland and even have relatives among the displaced.
But, despite family ties, many aren't giving to the relief effort because they simply don't trust the Pakistani government.
"The money might reach a quarter of the people who really need it," says Mussarat Khan as he leaves a doctor's office. "The doctor and I were discussing the flood, there is just so much corruption."
Whether the corruption allegations are true or not, perceptions that money would be wasted is one reason relief organizations say contributions for flood victims are way down.
"There has been a tepid response, it is down significantly from other disasters of recent times," says Ken Berger, president of Charity Navigator, a Glen Rock, N.J., evaluator of charities. "There could be a host of different reasons – from donor fatigue to people not feeling comfortable because of their concerns about terrorism."
---