Why Iran's nuclear reactor may not be an immediate threat
Iran's Bushehr nuclear reactor is set to be loaded with fuel Saturday. Some hawks say bomb it now, but leading nuclear experts advocate a wait-and-see approach.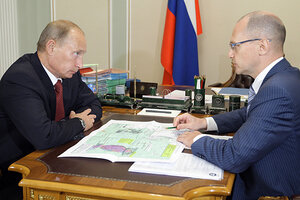 Alexei Druzhinin/RIA-Novosti/AP
Many breathless pundits have argued in recent days that the world faces a now-or-never window of opportunity to bomb Iran's new Bushehr nuclear reactor to neutralize any potential nuclear threat from Tehran.
Former UN Ambassador John Bolton says the deadline for destroying it must be before the first fuel is loaded on Saturday – and before it becomes more of a radioactive and political mess to destroy.
The reactor, once operating, could give Iran enough plutonium-laced spent fuel to make up to 60 nuclear weapons within 12 to 18 months of operation, according to nuclear experts.
Still, many leading US nuclear scientists caution that even after Russia begins fueling the power plant that it built in southern Iran, the international community will have at least two weeks, and possibly longer, while fuel is being loaded to evaluate the situation since Bushehr will not become instantly radioactive.
"A good number of people have erroneously assumed that once the Russians load the fuel in Bushehr, the plant 'goes radioactive,' " Henry Sokolski, director of the Nonproliferation Policy Education Center, a Washington think tank, writes in an e-mail.
Though he opposes bombing, "the amount of reactivity in the reactor initially is relatively low, so low that the amount of radioactive material that might be dispersed if the plant was bombed would be negligible" for weeks or months.
---