Documentaries a hit with audiences, accountants
'The Tillman Story' and 'Countdown to Zero' are among several highly anticipated feature documentaries premiering this summer. Studios have cut back on the number of films they produce, and theaters have converted to digital, making it easier to get small films screened.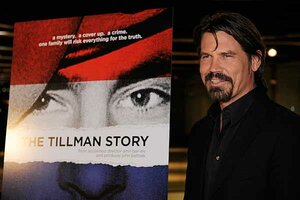 Chris Pizzello/AP
While "The Expendables" and "Eat Pray Love" linger in the multiplex this weekend, some moviegoers who want more challenging fare than big guns or Balinese romance have a few more options. Two feature documentaries – "A Film Unfinished," about Nazi propaganda, and "The Tillman Story," the chronicle of the NFL star-turned-soldier – arrive at the same time as the Hubble Imax film expands into 96 theaters nationwide.
This feastlet of non-fiction films is part of a larger summer mini-banquet being enjoyed by lovers of the genre.
More than 20 feature documentaries are playing in theaters across the US this summer. The buzz began with a quirky profile of comic Joan Rivers and continues into the fall with "Countdown to Zero," the next project from the makers of the Al Gore docu-hit "An Inconvenient Truth."
Expect more of the same, says author Patricia Aufderheide ("Documentary Film: A Very Short Introduction"). "There is a growing hunger for content on all screens from cable to the movie theaters," says the American University professor, "and the audience for feature documentaries has been underserved in the past."
She points out that when the film service Netflix first opened its doors, the thirst for non-fiction films startled the company.
---