Egg recall: Supplier reported to have history of health, safety violations
Two farms that recalled 450 million potentially-tainted eggs have links to an Iowa businessman reported to have been cited for 'numerous health, safety, and employment violations.'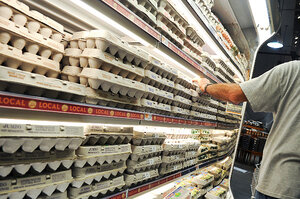 Newscom
Two farms that recalled some 450 million potentially-tainted eggs have links to an Iowa businessman who "has been cited for numerous health, safety, and employment violations over the years," according to a report Sunday.
The Associated Press reports that businessman Austin DeCoster owns Wright County Egg, the first farm that recalled eggs linked to reported cases of salmonella poisoning. Mr. DeCoster also owns Quality Egg, which supplies chickens and feed to Wright County Egg and to Hillandale Farms of Iowa. On Friday, Hillandale Farms became the second farm to recall potentially-contaminated eggs.
"DeCoster is no stranger to controversy in his food and farm operations," the AP reports.
IN PICTURES: Controversial foods
Over the years, DeCoster's company has agreed to pay large fines to settle charges involving health, safety, and employment discrimination issues. DeCoster's farms also have been the target of immigration raids and animal-cruelty allegations.
---