Blockbuster edges toward bankruptcy in the age of Netflix
With Americans edging away from video rentals, Blockbuster may declare bankruptcy next month, it reportedly told Hollywood studios Thursday, closing as many as 20 percent of its stores.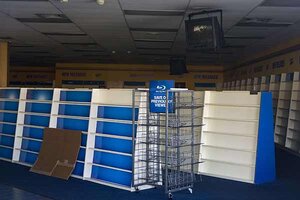 Kristoffer Tripplaar/Sipa/Newscom
Blockbuster Inc., the video rental giant which began putting mom-and-pop size rental stores out of business over a decade ago with its more efficient business model, is seeing the same thing happen to it, experts say.
Having lost $1.1 billion since 2008, the company is reportedly preparing to file for bankruptcy next month, closing between 500 and 800 of its 3,425 stores nationwide in hopes of restructuring its debt.
"What happened is that Netflix and others have simply built a better mousetrap," says Paul Dergarabedian, movie analyst for Hollywood.com. "In the same way that iTunes and filesharing have killed the major record chains, technology is changing everything for movie rentals," he says.
Change a long time coming
With movies available at home by mail in one day, or on demand to computers and TV nearly instantly, the alternative of driving to a video store twice, paying more, and worrying over late fees is increasingly being avoided.
"I don't know anyone who doesn't have Netflix," says Karie Bible, box office analyst for Exhibitor Relations, a Hollywood-based movie-industry analysis firm. In addition to Netflix and Redbox kiosks available in malls and grocery stores, she says there has been a large growth of niche websites such as GreenCine, which specializes in independent and foreign films, and others which specialize in old silents.
---