After Katrina, New Orleans housing goes green
Conservation was never a top priority in New Orleans, but Katrina changed that. The city is now an incubator for new home building featuring natural resources and sustainable architecture.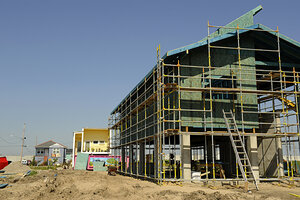 Mary Knox Merrill/The Christian Science Monitor
Excess is a virtue in New Orleans – luxurious cream sauces, deeply fried seafood, and late night jam sessions that can last until the sun comes up.
So one of the unexpected trends to emerge in the five years since Hurricane Katrina flooded this city in 2005 is entrepreneurship focused on green technology and home building.
Conservation was never a top priority of those choosing to live here, but that is changing, some say, because of the lessons learned from first being displaced and then trying to devise methods to cooperate with the land, not fight against it.
IN PICTURES: Hurricane Katrina five years later
Beth Teel Galante, a director for Global Green USA, which has built five homes in the city's Holy Cross neighborhood and has plans for an 18-unit apartment building, says most people were "apathetic" regarding issues like sustainable architecture and building materials.
"We have never been critically engaged about demanding reform. So we learned the hard way the true value of community," Ms. Galante says.
Public and private partnerships
Public and private partnerships are taking shape in New Orleans, turning the city into an incubator for new home building featuring natural resources and materials that require less cost to maintain.
Entrepreneurial financiers and environmental non-profits consider devastated neighborhoods like the Lower Ninth Ward and Holy Cross blank slates for designing and constructing new homes and tweaking sustainable technologies that are their hallmarks.
Global Green President Matt Peterson says New Orleans became the perfect city for testing utopian endeavors because "the failure of government" to rebuild in the wake of Katrina left entire swatches of empty land.
---