Would New Orleans levees hold for a second Katrina?
Five years after Katrina, New Orleans is rebuilding. The system designed to protect against future storms is better than before, but questions remain about whether it is fortified enough.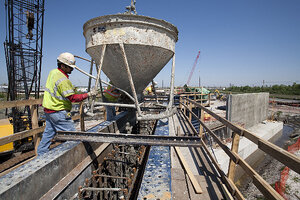 Newscom
Normally, moving to a new house in a new neighborhood is a transition many can feel good about. But for Randy Pratt, an electrician, moving his family into a brick home in this city's Lower Ninth Ward makes him shrug at the possibility of lightning striking twice.
He now lives a short walk from where a concrete barrier collapsed on Aug. 29, 2005, allowing rushing water to destroy the neighborhood that only recently started to rebuild. Does moving back to what many consider the scene of the crime make him hesitate?
"I've been around levees my entire life," says Mr. Pratt. "I just hope it's safe, that's all."
IN PICTURES: Hurricane Katrina five years later
His faith in the city's 350-mile levee system, and therefore in the US Army Corps of Engineers, the federal agency in charge of maintaining it, is something that everyone living in this city shares in different proportions.
There is good reason.
What was first reported as the worst natural disaster in US history was later redefined as a breakdown in communication and maintenance by the Army Corps. Volumes of material written in the wake of hurricane Katrina, including a report released by the agency in 2006, determined that the flooding that drowned 80 percent of this city was due to faulty levee design, eroding materials, inconsistent levels of resiliency in different sections, pumping stations that were not designed to work during large storms, and other hazards that undermined the protection most had assumed was there.
---