Hurricane Earl: East Coast residents should have an evacuation plan
Hurricane Earl could still stay out over the Atlantic, but it's going to be a close call. So East Coast residents should practice evacuation in case hurricane Earl comes ashore.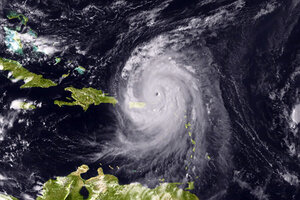 NOAA/AP
As powerful hurricane Earl heads away from Puerto Rico and the Virgin Islands, federal officials are warning coastal residents from North Carolina to Maine to plan evacuation routes in case they need to seek safer ground.
Based on the expected storm track, Earl may stay just out to sea and parallel the coast. But a storm surge from the hurricane could cause significant damage to the coast as its winds have already hit 135 miles per hour.
Bill Read, the director of the National Hurricane Center, said Tuesday that he expects the first signs of the storm to come late Wednesday with big waves along the North Carolina coast. By Friday, Long Island and Cape Cod could see the big swells and dangerous rip currents.
"If it were my family, I would know what I was going to do and make that decision as the storm gets closer," says Mr. Read.
The Federal Emergency Management Agency (FEMA) does not have the luxury of waiting until the last minute.
---