Hurricane Earl cooking secrets: what to eat if you're without power
Hurricane Earl could knock out power and services as it makes its way up the eastern seaboard. Here's what shoppers should grab if they're stocking up for Hurricane Earl.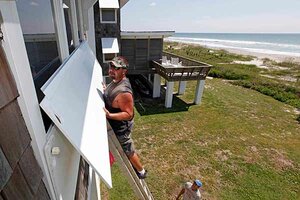 Chuck Burton/AP
Here's a scenario some people are dealing with this week: Hurricane Earl is bearing down. You've been told you don't need to evacuate, but you could be without power for a couple of days, maybe longer. Your windows are boarded. Your flashlights and portable radios sport fresh batteries. Your yard is cleared of potential wind-launched projectiles.
But what sort of food have you squirreled away?
That's a question that ate at Marcia Magnus after watching people grab food from grocery-store shelves in advance of one of five tropical cyclones that hit Florida in 2004.
"People were getting as much canned meat as they could find – Spam, sausage, corned beef," says the assistant professor of dietetics and nutrition at Florida International University in Miami, Fla., and a consultant to UNICEF. "That's the worst thing you can do."
Shoppers cleared out the meats section of the canned-goods aisle while virtually ignoring shelves holding canned vegetables, as well as canned and dried beans and peas – to say nothing of the fresh fruit, vegetables, and whole-grain products still available.
The outcome of that experience: "The Healthy Hurricane/Disaster Cookbook," an 18-page set of tips for gathering and storing food in advance of a storm, as well as several pages of recipes that take no electricity to prepare.
Out are foods heavy in fat, salt, and sugar. In are crab dip, shrimp cole slaw, or cashew chicken-salad sandwiches. Breakfasts? Try oatmeal laced with raisins, dried apricots, and cranberry sauce, and moistened with low-fat soy milk.
---