Hurricane Earl: hurricane-force gusts likely on Long Island Friday
Hurricane Earl forecasts still have the storm brushing the East Coast from Cape Hatteras to Cape Cod. Some Long Island residents say they don't know what they should be doing to prepare.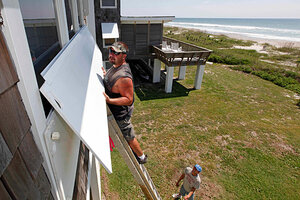 Chuck Burton/AP
On Wednesday, Ralph and Patricia Cusimano decided to haul out of the water their 50 foot power boat, "Polar Bear" just to be on the safe side as hurricane Earl starts its run up the mid-Atlantic Coast.
He has cause for caution. At 5 p.m. Wednesday, the National Hurricane Center said Earl had reintensified to a Category 4 storm with maximum sustained winds of 135 miles per hour. In addition, it issued tropical storm warnings from North Carolina to Sandy Hook, N.J. And it issued hurricane watch alerts for Woods Hole and Sagamore Beach in Massachusetts.
Tropical force winds are expected to hit the New Jersey coast starting on Friday morning as the storm accelerates northward. The latest forecasts still have Earl skimming the East Coast, with sustained tropical storm-force winds of at least 73 m.p.h. and hurricane-force gusts hitting eastern Long Island Friday afternoon.
---