Hurricane Earl path stretches from North Carolina to Boston Harbor
Hurricane Earl path prompts tropical-storm or hurricane warnings from North Carolina to Hull, Mass. Earl, packing 140 m.p.h. winds, is slated to brush Cape Hatteras overnight.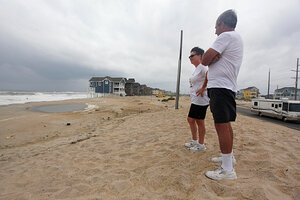 Richard Clement/Reuters
Hurricane Earl, some 300 miles south of North Carolina's Cape Hatteras, has now prompted tropical-storm or hurricane warnings from the Tar Heel State's coast to the Massachusetts-New Hampshire border.
Coastal New England from Westport, Mass., to Hull, a town at the end of a peninsula forming part of Boston Harbor, is the latest swath of coastline to come under a hurricane warning.
From the North Carolina-Virgina border up to Westport, the entire coastline is under a tropical storm warning. The Delmarva Peninsula is under a hurricane watch as well.
"We've talked about people needing to be prepared and getting their plans ready. We're past that," says Craig Fugate, director of the Federal Emergency Management Agency (FEMA). "This is a day of action." People need "to be ready to heed any additional evacuation orders as this storm continues to track to the north," he says.
The storm continues to pack maximum sustained winds of 140 miles per hour and is working its way toward the coast at about 18 m.p.h.
---