Muhammad Musri, an unusual imam, brokers Quran-burning debate
Imam Muhammad Musri is comfortable brokering interfaith dialogue, but in his bid to stop Florida pastor Terry Jones from burning Qurans on Saturday, he has waded into a controversy with global repercussions.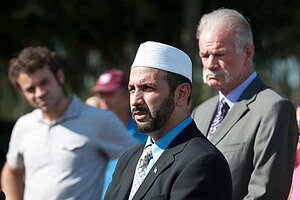 Phil Sandlin/AP
He has stood with Jewish and Christian leaders to support health-care reform. He waded into the Fatimah Bary runaway teen controversy. And he has reached out to Hispanics by teaching the Quran in Spanish.
But Imam Muhammad Musri, a young and by many accounts unconventional Muslim leader, may have found his greatest challenge as he stepped into a global controversy over Florida pastor Terry Jones' plan to burn Qurans on the anniversary of 9/11.
On Thursday, Mr. Musri, the president of the Islamic Society of Central Florida and overseer of six mosques, appeared with Mr. Jones to announce the suspension of the Quran-burning gambit. Jones later backtracked, saying Musri "clearly, clearly lied" to him by agreeing to a condition that the Park51 religious center planned for near ground zero in New York would be moved to another location.
---