Poverty rate paradox: Poverty rises, but FBI crime rate falls
Poverty rate rose in 2009, but the FBI's new crime numbers show another big decline, especially in violent crime. The ties between poverty and crime may not be so obvious after all.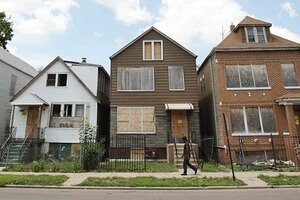 John Gress/Reuters/File
The much-studied links between poverty and crime rates – which helped give rise to many Great Society programs – have not materialized so far in the Great Recession. Even with 15 percent of Americans now officially poor, both violent crime and property crime continued to drop in the United States in 2009, the FBI reported Monday.
The housing crash's backwash of foreclosures and high unemployment has pushed some in the middle class and the working poor to the brink of despair and insolvency. Yet crimes reports ranging from murder to carjackings, from graft to purse-snatching, all declined during the same period, forcing social scientists to reexamine long-held assumptions about the causes of crime and how society can best battle back.
"What we're seeing now represents a real break in pattern from past relationships between economic downturns and crime increases," says Richard Rosenfeld, a criminologist at the University of Missouri, in St. Louis. "This current recession … does place constructive pressures on those of us who study crime trends to figure out what's happening amidst this serious economic downturn."
The report marks the third straight year of falling crime rates – a period that roughly overlaps with the recession.
At the least, the trends show that America, for all its Hollywood violence fantasies and its occasional mass murders, remains at heart an orderly republic, where police, judicial jurisdictions, and even vigilant neighbors keep a reasonable check on society's darker inclinations – even when the society itself is strained.
---