Nuclear power a viable competitor in US energy market, study finds
High costs of building nuclear power plants may put the industry at a disadvantage to fossil-fuel-burning energy producers, says a study from MIT. But reprocessing spent nuclear fuel, a controversial practice, won't be necessary, it finds.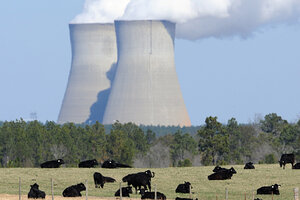 Newscom/File
Uranium will remain abundant and affordable enough to supply the next generation of US nuclear power plants, a new study says, eliminating the need for the industry to reprocess spent fuel and holding open the promise of a cleaner alternative to fossil fuels.
The report, "The Future of the Nuclear Fuel Cycle" from the Massachusetts Institute of Technology, expresses confidence that the industry can compete in the energy market with fossil-fuel-burning producers, though it says the industry must still address the issue of nuclear plant construction costs.
Released Thursday, the report also advocates the building of regional waste repositories for radioactive spent fuel to cool for up to a century before permanent disposal below ground. That would leave open the option to use the spent fuel as a resource rather treating it as waste, if new technologies someday allow the remaining fuel to be extracted economically.
IN PICTURES: Nuclear power around the world
The MIT study also recommends that a new "quasi-government waste management organization" be set up to deal with the complexities and long-term challenge of spent-nuclear-fuel waste management.
To address the dangers of the proliferation of nuclear know-how, the US should set up international fuel leasing agreements instead of promoting fuel reprocessing, the MIT report states. (Independent nuclear experts were buoyed by the report's refusal to endorse near-term reprocessing of spent uranium fuel, saying it would lessen the risk of nuclear proliferation.)
---
Follow Stories Like This
Get the Monitor stories you care about delivered to your inbox.