Gulf oil spill aftermath: Will region regain lost jobs?
A federal moratorium on deepwater drilling imposed after the Gulf oil spill is expiring this fall, but economists warn that oil companies may not be prepared to restore the thousands of jobs that were lost.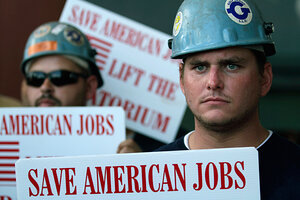 Gregory Bull/AP
Even as the oil industry in the Gulf of Mexico looks to the Nov. 30 expiration of the federal moratorium on deepwater drilling, economists are warning that conditions may not be favorable for oil companies to restore the thousands of jobs lost to the measures that were imposed after the Deepwater Horizon oil rig exploded in late April, killing 11 workers.
The warnings are being issued amid sharp disagreement between the oil industry and its critics over the longterm impact of the moratorium on employment in the Gulf region.
A report issued by the US Department of the Interior last week that significantly lowers job loss projections swiftly came under attack by those who say its assessment does not present a realistic picture of the federal moratorium's long-term impact.
IN PICTURES: Louisiana oil spill
In late May the Obama administration suspended oil drilling in water depths greater than 500 feet for six months so it could review safety measures related to the deadly explosion of the Deepwater Horizon, which also released an estimated 205 million gallons of oil into the Gulf of Mexico.
---