Autumn begins: Will weather pattern leave leaf-peepers blue?
On first day of autumn, thoughts often turn to the coming blaze of fall foliage. But in New England, an unusually hot and dry summer may portend a shorter, and paler display this year.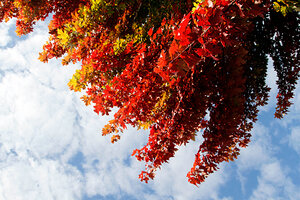 Don Ryan/AP
Autumn has arrived, and with it visions of leaf-peeper caravans snaking their way by brilliantly colored, sun-lit trees along tranquil rural roads, of crisp nights spent at cozy country inns and B&Bs.
That is certainly the image promoted by state departments of tourism, inn keepers' associations, and countless travel websites, which eagerly anticipate every fall's rush of business.
But fall foliage seasons, and the leaf chemistry that creates them, are notoriously vulnerable to weather conditions, and this year may be a case in point after a summer of extreme heat and dryness in the Northeastern US, where some of the more vibrant displays of color can usually be found.
"This year we had an exceptionally dry and warm August and early September," said Richard Primack, a professor of biology at Boston University in Massachusetts, "so this caused a lot of birch trees and other trees to lose their leaves prematurely."
The best autumn foliage follows growing seasons with ample water followed by cool and dry weather in early fall. With dropping temperatures and less daylight, the leaves lose the chlorophyll that makes them green, leaving underlying pigments of red, yellow, and orange.
---