Bishop Eddie Long case: Will it alter black church's view of gays?
Bishop Eddie Long, one of the most powerful men in the black megachurch movement, faces allegations of taking sexual advantage of two teenage boys. In 2004, Long created a ministry to 'deliver' men from homosexuality.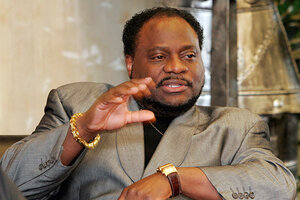 Gene Blythe/AP/File
In 2004, Eddie Long, one of the richest and most powerful pastors in the black megachurch movement, led a march in Atlanta against homosexuality. This week, Mr. Long faces civil charges, which he has denied, that he took sexual advantage of two teenage boys from his flock.
Bishop Long is one of the most visible members of a group of high-powered black evangelicals, often sporting muscle-cut shirts that show off his thick arms. He has called himself the "spiritual daddy" to young black men in search of salvation. One of his books is "Gladiator, the Strength of a Man."
The nature of the complaints in two civil lawsuits and the involvement of one of the black church's most popular leaders have shocked the black community, especially in Atlanta, where Long made his name and fortune.
But because Long through his ministry helped perpetuate homophobia, his critics say, the case could affect his career, challenge the antihomosexual stance of many black church members, and even offer hope to black gay men who struggle for acceptance and a role in black society.
"This might be a time of scandal [for the black church] ... but it will also spark a renewed dialogue," says Shayne Lee, a Tulane University sociologist and author of "Holy Mavericks: Evangelical Innovators and the Spiritual Marketplace." "The fact is, Eddie Long is one of the most respected black Christians in the country, he's very popular and very influential, and that's why this is going to get a lot of people talking about the issue of sexuality [in the black church]."
---
Follow Stories Like This
Get the Monitor stories you care about delivered to your inbox.