In Philadelphia, a Michael Vick Atlanta never knew
Quarterback Michael Vick has won the starting job with the Philadelphia Eagles by changing who he is – both on and off the field – after spending 20 months in prison for dogfighting.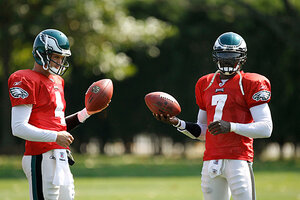 Matt Rourke/AP
This is not the Michael Vick that fans here in Atlanta knew before he was convicted on dogfighting charges and spent 20 months in a federal pen.
Here, Mike Vick flipped off a jeering fan.
In Philadelphia on Tuesday, when Philadelphia Eagles Coach Andy Reid announced that Vick was the Eagles new starter, Vick said: "I'm humbled."
Here, Mike Vick, a former No. 1 pick with a $130 million deal, dazzled fans with his footwork, but frustrated them with his tendency to pull the ball down and run at the first sign of danger.
In his game last Sunday against Detroit, the second-string Vick – playing only because the starter was injured – stayed poised even as he scrambled, relying on his arm and football mind as much as his athletic legs.
Here, Mike Vick didn't give a hoot what people thought of him.
In Philadelphia, Vick is all about how people perceive him, even taking part in a BET documentary that details the truth about his former "double life" as a kennel owner where failing fighting dogs would meet their demise through drowning and electrocution.
A three-year project
The narrative of redemption is a nearly three-year project that began while he was in prison. It involved his Christian mentor, former Indianapolis Colts coach Tony Dungy, the support he received from former teammate Donovan McNabb, and the faith of the Eagles organization, where even the most "Sunny in Philadelphia" optimist would have been hard-pressed to forecast this day.
---