Gulf oil spill: Can region keep its seafood on America's dinner tables?
The Gulf oil spill leaves the region's seafood industry with a serious image problem, the same challenge it took Alaskan fishermen 10 years to overcome after Exxon Valdez. How long will it take to restore the American consumer's confidence in the Gulf brand?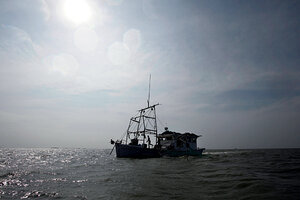 Gerald Herbert/AP
Gulf shrimp-boat captains from Louisiana to Florida aren't finding anything wrong with their catch as they motor into waters reopened after this summer's oil spill off the Louisiana coast.
A small army of government testers, utilizing sniff, taste, and chemical tests for lingering toxic hydrocarbons, haven't found anything wrong with freshly caught grouper, speckled trout, and shrimp. The best New Orleans chefs are on TV ticking off the cornucopia of Gulf sea life that's good to eat.
But ask Jan Weddle Buffum of Maine if she's keen on the Gulf's seafood and the answer is more than a no. "I hope I am NOT eating anything from the Gulf!" she responded to a Monitor reporter's Facebook query. "I ask whenever I buy seafood."
In a normal year, the Gulf supplies the majority of domestic shrimp and oysters to American dinner tables, equaling about 2 percent of the total seafood consumed in the United States. For the Gulf states, $10.5 billion of gross domestic product is tied to the fishing industry, a number that could be halved this year by the 200-million-gallon oil spill that closed a third of the Gulf's critical fishing grounds.
Now the Gulf fishing business faces a big question: Can it overcome the same kinds of tainted food scandals that have hit the peanut, tomato, spinach, and egg industries in recent years – or will lingering suspicion further hobble the historic, but ailing, fishery?
---