Months after W.V. coal mining disaster, new US rule on coal dust
US issues emergency order to suppress coal dust blasts. Probes of the Upper Big Branch coal mining disaster, which killed 29 people in April, are focusing on coal dust as the likely culprit.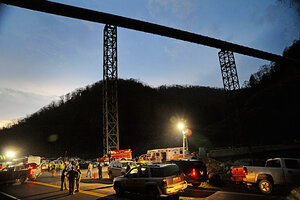 Jeff Gentner/AP/File
The Obama administration has issued an emergency order to underground mine operators to strengthen a crucial safety measure to prevent explosions of coal dust, a highly flammable substance that has been blamed for deadly mine disasters for decades.
Investigators say coal dust likely was a key factor in the April 5 explosion at the Upper Big Branch Mine in Raleigh County, W.Va., that killed 29 people, considered the worst US coal-mining disaster in 40 years.
The emergency order, issued on Tuesday by the US Mine Safety and Health Administration (MSHA), will force mine operators to increase the amount of incombustible "rock dust" that is applied across walls, floors and all other surfaces of their underground operations.
IN PICTURES: West Virginia mine explosion
Rock dust, a mixture usually consisting of powered limestone, is known to destabilize coal dust, a discharge from drilling that is highly explosive. Compliance with the order is expected by Nov. 22.
"Coal dust explosions are serious, and we expect mine operators to act quickly to reduce the threat to those mining coal underground," Joseph Main, assistant secretary of labor for mine safety and health, said in a statement.
---