UT shooting comes just as Austin campus debates concealed weapons law
A gunman fires several shots, hitting no one, before killing himself in UT shooting. The Texas legislature is expected to consider a law next session allowing students to carry concealed weapons on campus. The Austin campus has been at the center of the debate.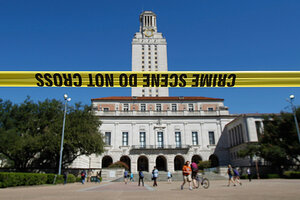 Eric Gay/AP
The University of Texas at Austin, the site of one of the worst campus shootings in US history, came close to another tragedy Tuesday as a ski-mask wearing gunman fired several shots on campus before taking his own life. No one else was hurt.
The UT shooting comes as Texas, and UT in particular, was already at the center of a national debate over whether to allow students to carry concealed weapons to protect themselves against attack. In fact, an advocate of concealed weapons is still scheduled to address students Tuesday night.
The national debate on the issue was spurred largely by the 2007 shooting at Virginia Polytechnic Institute, in which 32 people were killed. Yet UT is also familiar with campus shootings. In 1966, a sniper shooting from UT's iconic clock tower killed 14 students.
John Woods, a graduate student at UT, has spoken out against concealed-carry laws. As an undergraduate he survived the Virginia Tech shooting, in which his then-girlfriend died. "The idea that somebody could stop a school shooting with a gun is impossible," Woods told the Associated Press during debate over a proposed campus carry law in Texas last year. "It's reactive, not preventative."
---