Stuxnet worm: Private security experts want US to tell them more
Private sector security experts say the government's public reports on the Stuxnet worm – the world's first publicly-known cyber superweapon – often seem to be old news or incomplete.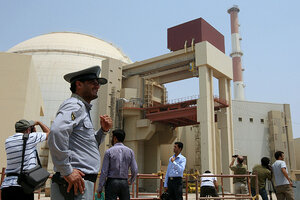 Newscom
America's government security experts are among the best in the world. But their private sector counterparts are mystified why government's public findings on the Stuxnet worm – the world's first publicly-known cyber superweapon – so often have seemed muted, old news, or incomplete.
Tucked away on a government website, the Industrial Control System-Cyber Emergency Response Team (ICS-CERT) – part of the Department of Homeland Security – posts alerts and bulletins with government analysis of Stuxnet, dutifully logging its findings since it emerged publicly in July.
Yet those government alerts have mostly been echoes of findings already made public by anti-virus companies and private researchers – often lagging by several days and providing less detailed findings, industrial control system security experts say.
It looks like government is either inept at releasing detailed technical information to help protect the country or – for other reasons political or strategic – has decided to pull its punches on helping defuse Stuxnet, security experts, former government officials and Stuxnet experts told the monitor.
For instance, they say, the US government so far has refused to provide details on Stuxnet that might help some 40-50 US-based industrial control systems possibly infected by this new generation of cyber-war software. The government's failure, they say, leaves US corporations infected and open to attack in the future.
---