Falcon Lake 'pirate' shooting: Where's missing boater David Hartley?
Nearly a week after Mexican pirates allegedly shot and killed David Hartley on Falcon Lake, Texas, his body has still not been found. What might be causing the delay?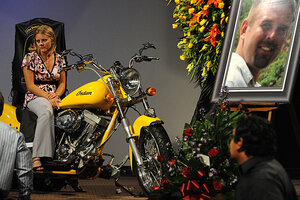 Helen H. Richardson/The Denver Post/AP
The Mexican government on Wednesday stepped up a search on Falcon Lake – 60 miles long and straddling the US-Mexico border – for a missing US boater, presumed shot and killed by Mexican pirates nearly a week ago.
The halting attempt by the US and Mexico to find the body of David Hartley and establish security on the deceptively placid lake highlights the degree to which cross-border communications and trust have broken down since the start of the Mexico drug war in 2006, says Texas state legislator Aaron Pena.
The result is that an issue that once might have been handled between local officials from Texas and the Mexican border state of Tamaulipas has now escalated into an international incident demanding the involvement of the Obama administration.
Border security "will be much more successful if both sides are working toward the same goal," says Peter DeShazo, director of the Americas Program at the Center for Strategic and International Studies in Washington.
---