Conspiracy theories linger in Falcon Lake Mexican 'pirates' shooting
An eyewitness corroborated part of Tiffany Hartley's story about a Mexican 'pirate' attack that killed her husband, David Hartley, on Falcon Lake last week. But not all doubts have been erased.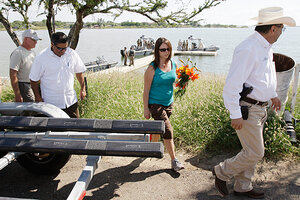 Eric Gay/AP
As Tiffany Hartley, surrounded by Texas game wardens, laid a wreath of yellow roses on the surface of Falcon Lake near where she says her husband, David, was shot by Mexican pirates, questions were swirling about the truth of her tale.
In part fueled by the improbability of the phrase "Mexican pirates" and given past crimes where innocent-seeming spouses eventually faced murder charges, doubts about Ms. Hartley's story have bubbled up on cable TV shows, Twitter, and even along the 60-mile-long border lake where the shooting allegedly happened.
"There are a whole lot of doubts. Very few believe it. [The story] is just too wild with too many loopholes," says John Williams, a resident of Zapata, Texas, and a fishing guide on Falcon Lake since 1964, in a phone interview. "I don't know what happened. They could have taken him off into desert, and he'll never be seen again, but I don't think anybody will ever know unless they come up and tell you."
The lake, long known as a crossing point for illicit cross-border activity, has lately become a hideout for cartels fleeing a Mexican government crackdown. The Gulf Coast Cartel and its former enforcers, the Zetas, are fighting for control of the lake. This year, cartel-linked pirates have reportedly robbed or attempted to rob US bass fishermen on five different occasions, though Mr. Hartley is the first reported death.
---