Mistaken identity theory gains traction in Falcon Lake 'pirate' attack
An intelligence firm suggests that Americans David Hartley and Tiffany Hartley, who were attacked on Falcon Lake along the Texas-Mexico border, were mistaken as drug cartel spies by junior members of a rival Mexican gang.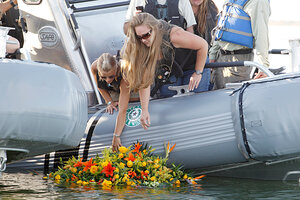 Eric Gay/AP/File
Officials on the US side of Falcon Lake, where David Hartley, a US tourist, was shot on Sept. 30 while Jet Skiing, are giving some credence to a theory that Mr. Hartley and his wife were mistaken as drug cartel spies by "pirates" linked to another cartel, setting in motion a tense, and ongoing, international incident.
US and Mexican authorities so far have no official explanation for the shooting of Hartley, but a report by a global intelligence firm posited this week that Mr. Hartley and his wife, Tiffany Hartley, stumbled into an ambush engineered by lower-level cartel members – perhaps teenagers – who made an unauthorized decision to confront and fire upon the couple.
Zapata County Sheriff Sigifredo Gonzalez, the lead Texas investigator into the shooting, acknowledged on Thursday that it "wouldn't be unheard of" for cartel members to confront suspected spies.
Howard Campbell, author of "Drug War Zone," told CNN Friday that the shooting may be the result of the Zeta cartel, which is believed to be behind Hartley's murder, growing more desperate beneath a government crackdown and intensifying battles with other drug lords.
"There are reports that recently the Zetas have become a bit desperate and have been using ill-trained, reckless teenagers which can lead to mistakes of this kind," he told CNN in an e-mail Friday. "The leaders of Mexican drug cartels try to minimize attacks on Americans because they know this would bring pressure on their organizations."
Ms. Hartley told police in the US that lake "pirates" shot her husband and chased her into Texas waters before she got away.
---