Will Fort Hood shooting trial find motive – or link to terrorism?
The prosecution of Maj. Nidal Malik Hasan, accused of killing 13 in the Fort Hood shooting last November, may never reveal his motives – or touch the possibility of a larger terror conspiracy.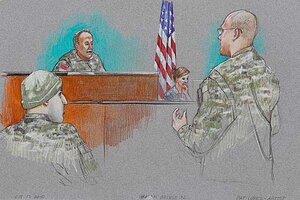 Pat Lopez/AP/File
A gaunt, hollow-eyed defendant, staring straight ahead from under a woolen cap. A soldier ordered to erase videos of a crime. A military trial system that favors just the facts, and a prosecutor not keen to muddy the case with speculation.
US Maj. Nidal Malik Hasan's pre-trial hearing at Fort Hood for killing 13 fellow soldiers and maiming many more a year ago has so far featured startling testimony about how Major Hasan opened fire at a base deployment center, hunting people amid gun smoke with a red laser sight while shouting, "Allahu Akbar," or "Allah is greater."
Yet the motive for the shootings remains as unreachable as Hasan, who is partially paralyzed from getting shot after the rampage, and who has given few clues as to his state of mind. What's more, testimony from one soldier that he was ordered to erase two cell phone videos of the massacre scene – and attempts by Hasan's defense to paint the shooting spree as a rash, spontaneous, act – darken the prospect that Americans will learn what caused what some believe was the first international terror attack on US soil since 9/11.
"If people want to know about some overarching conspiracy to attack the United States, I'm not sure if that will come out [in a trial]," says Richard Rosen, a former staff judge advocate at Fort Hood and currently a law professor at Texas Tech. "We're more likely to hear about his state of mind when he committed the murders."
---