Ready for winter? In the South, you may not need to be.
The long-range forecasts are out, and this winter promises to be every bit as wacky as last, except different. La Nina could make the north cold, California warm and dry, and Florida parched. And the Northeast? Check back later.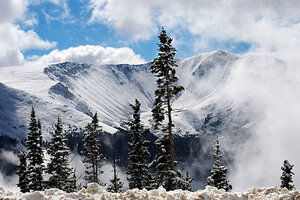 RJ Sangosti/The Denver Post/AP
If you live in Chicago, Detroit and Buffalo, you probably ought to make sure the snowblower is in tip-top shape for the winter. But, if you live south of I-40, which runs from Barstow, Calif., to Wilmington, N.C., you may not need to put away your swimsuit. And if you live in between: It will be more like a normal winter.
On Thursday, meteorologists from both private forecaster AccuWeather.com as well as the National Oceanic and Atmospheric Administration (NOAA) issued their forecasts calling for "extremes" for the US this winter.
"The weather is going to be schizophrenic," predicts Joe Bastardi, chief long-range forecaster for AccuWeather, based in State College, Pa. "We will see extremes in the North and West and we will see a lot of warm weather in the Southeast."
Places such as Washington, D.C., and Philadelphia that had blizzard after blizzard last year may just get ready for a more normal winter.
---