Severe weather: monster storm batters Illinois, Indiana, and Ohio
Severe weather that hit Illinois and Indiana is being dubbed a 'Chiclone' (for Chicago+cyclone). Meteorologists say the severe weather is the second strongest storm on record for the region.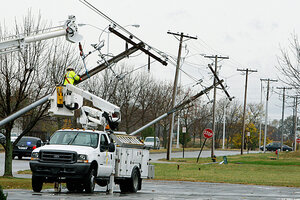 Sam Riche/The Indianapolis Star/AP
An unusually powerful low-pressure weather system swept through northern Illinois and northwest Indiana early Tuesday morning, resulting in over 300 canceled flights at O'Hare International Airport, more than 60,000 ComEd customers without power, and a spate of severe thunderstorm warnings and tornado watches throughout the Midwest.
No deaths were attributed to the storm, which was dubbed alternately a "chiclone" or the "windpocalypse" on news sites and in the blogosphere.
It was the second strongest storm ever to hit the Great Lakes area as measured by the barometric pressure at the storm's center.
Late Tuesday the National Weather Service said a tornado with the maxium speed of 115 mph touched down about four miles east of Peotone in Will County, south of Chicago at 7:40 a.m. The tornado traveled 2.9 miles and caused downed power lines and partially destroyed a home. Another tornado is reported to have landed in Racine, Wis.
The massive storm, which generated wind speeds of up to 70 m.p.h., was the result of a low-pressure system that originated in Nebraska and intensified as it moved across the upper Midwest toward Canada, affecting 13 states.
---