Gulf oil spill: Greed didn't trump safety, says Deepwater Horizon panel
The presidential commission investigating the April 20 explosion of the Deepwater Horizon oil rig in the Gulf of Mexico cited a misread test as one likely cause of the disaster.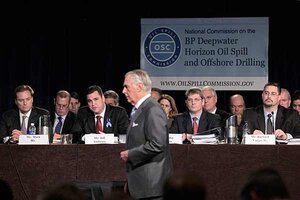 J. Scott Applewhite/AP
Crewmen and company officials overseeing the Deepwater Horizon oil drilling operation in April misinterpreted a critical "negative pressure" test on the well. They thought it was a success – it was actually a failure. If recognized, it would have revealed the imminent danger of a blowout, reported the chief investigator of the presidential commission looking into the disaster.
The blowout of the Macondo well that killed 11 men and wreaked environmental havoc on the Gulf also hinged on the failure of the cementing of the well. That critical process was to have prevented gases from flowing up and around the drill well casing, said Fred Bartlit, chief counsel for the commission.
But there is no evidence so far to suggest that there was a conscious decision to sacrifice safety to save money, he said. Instead, the preliminary conclusion on the cause of the disaster cites a litany of problems, including:
The volatile gas that reached the surface and exploded flowed exclusively through a device at the bottom of the well called a "shoe track" and from there on "up through the casing."
The cement injected into the well to block the passage of gas was potentially contaminated or displaced by other materials in the shoe track and failed to isolate the high-pressure oil and gas from coming up the well.
Pre-job laboratory tests of the cement mixture should have prompted a redesign of the cement slurry, as was previously reported. Haliburton last week said investigators' methods used to reproduce the results of the company's earlier cement tests produce inaccurate results.
Later, cement evaluation tools might have been used to identify cementing failures, but most operators (including BP) would not have run tools at that time. Instead, they would have relied on a "negative pressure test" – the results of which were completely misinterpreted.
---