California 'mystery missile' ignites debate: Friend, foe, or faux?
News video showed a spectacular contrail Monday off California's coast, and debate over the 'mystery missile' blasted off. But even as government agencies said 'it wasn't us,' the US denied any threat.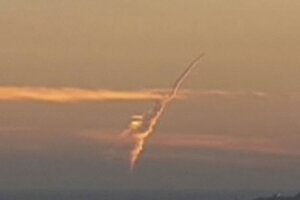 KCBS/KCAL/AP
A mysterious missile launch from California or an optical illusion?
That's a question the North American Air Defense Command (NORAD) is trying to resolve – and the blogosphere is hotly debating – after CBS News in Los Angeles aired what appeared to be a rocket launch from the Pacific Ocean just north of Santa Catalina Island, taken at sunset Nov. 8.
The "mystery missile" video, shot from a helicopter operated by local CBS affiliate KCBS, shows what appears to be an arcing plume of engine exhaust rising into the sky west of Los Angeles. Speculation about its source ranges from an airliner, whose contrail is giving the illusion of rocketry, or a missile itself.
About the only thing unambiguous about the event is that the go-to agencies either with jurisdiction over launches or with fingers poised over launch buttons – the Federal Aviation Administration, the National Aeronautics and Space Administration, and the Defense Department – said, in effect, "It wasn't us."
---