Afghanistan: Is 2014 the new 2011 for Pentagon war planners?
Senior military officials are now playing down the July 2011 deadline Obama had set for starting US troop withdrawal from Afghanistan. Instead, the Pentagon is talking up late 2014 as handover date.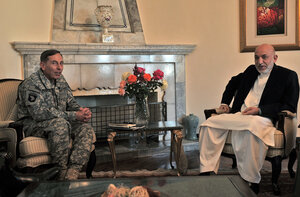 Massoud Hossaini/UPI/Pool/File
Senior US military officials are increasingly deemphasizing the July 2011 deadline set by President Obama earlier this year for beginning US troop withdrawals from Afghanistan, instead talking up a 2014 date cited by President Hamid Karzai as the year he would like Afghans to take over their own security throughout the country.
But as the Pentagon begins to shift emphasis to the end of 2014 – with White House backing – there is concern about what becomes of the sense of urgency that the earlier date was meant to communicate to the Karzai administration.
This comes amid evidence, too, that Mr. Karzai has in mind a considerably different approach to US operations than do senior US military officials. Such differences prompted NATO commander Gen. David Petraeus to express his "astonishment and disappointment" on the heels of Karzai's recent remarks that, among other things, he wanted US troops to be less intrusive in the lives of Afghans.
IN PICTURES: Fighting continues in Afghanistan
Petreaus also reportedly speculated during a private meeting about what might happen in a "hypothetical" scenario in which the general might be forced to pull back on US operations in the wake of Karzai's remarks, according to a Washington Post report – presumably an effort to place pressure on Karzai.
---